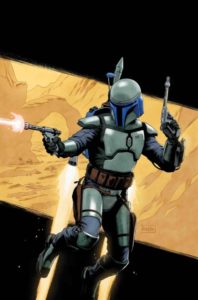 A tale of Jango Fett and his son Boba. Can't miss.
"THE MOST FEARED BOUNTY HUNTER IN THE GALAXY. JANGO FETT'S reputation precedes him as joins a crew for what seems like a simple job. Wait, is that a KID with him? Will his fellow bounty hunters be foolish enough to betray Jango and his son, BOBA FETT? Rated T."
Interested in Getting Started In STAR WARS comic books? Check out our guide here.
Related shopping tags: BOBA FETT, STAR WARS, STAR WARS (NEW CANON) [2014]