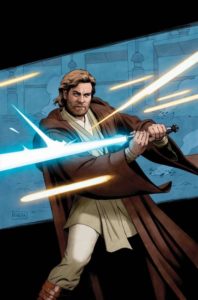 I will never get enough Star Wars comic books. Obi-Wan tops my list of characters I'd love to read stories about!
"THE EARLY DAYS OF OBI-WAN KENOBI, JEDI KNIGHT. Following the wishes of his master, OBI-WAN has taken on ANAKIN SKYWALKER as an apprentice. Will his mission alongside his young Padawan bring them closer together, or sow the seeds that will drive them apart? And who else is after the ancient holocron that they seek? Rated T."
Interested in Getting Started In STAR WARS comic books? Check out our guide here.
Related shopping tags: STAR WARS, STAR WARS (NEW CANON) [2014]