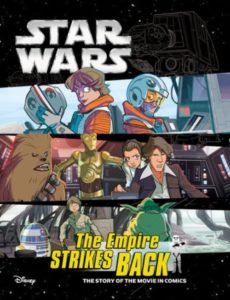 My favorite chapter, but then I'm an OT child. Get your kids hooked with this all-ages, animation style adaptation of the best chapter of the Skywalker Saga.
"Faithfully bringing events from the series' defining installment to the comics page, read along as Luke Skywalker confronts the legacy of the Jedi; Han, Leia, and Chewie struggle to evade the Empire, encountering danger at every turn; and Vader pursues the Rebellion with greater determination than ever before. Plus, emerges from the shadows a certain 900-year-old Jedi Master does. Advance solicited for February release. The epic wonder of a galaxy far, far away with streamlined, young-reader friendly designs."
Interested in Getting Started In STAR WARS comic books? Check out our guide here.
Related shopping tags: STAR WARS, STAR WARS (NEW CANON) [2014], STAR WARS MOVIE ADAPTATIONS