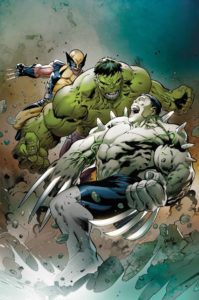 Whoa! The name is dorky, but, man, this is the matchup of the century here–Hulk and Wolverine vs. Weapon H!!
"THE CLASH YOU'VE BEEN WAITING FOR. At last. It's Weapon H versus his predecessors-Wolverine and the Hulk. Once, the Weapon X program sought to recreate the world's two greatest hunters. They ended up with Weapon H, a man of Adamantium claws and gamma-juiced blood. Now, Wolverine and the Hulk are back in action – and coming after the dangerous creation made in their name. Rated T+."
Interested in Getting Started In WOLVERINE (JAMES 'LOGAN' HOWLETT) comic books? Check out our guide here.
Related shopping tags: GREG LAND (CA), HULK, HULK (BRUCE BANNER), HULK FAMILY TITLES, WEAPON X, WOLVERINE, WOLVERINE (JAMES 'LOGAN' HOWLETT), X-MEN FAMILY TITLES