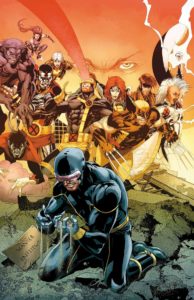 The weekly X-Men arc has ended and a new arc begins! These are exciting times for X-Men fans as the whole gang is back together in the regular ongoing titles, and there's a whole new alternate future being launched with the AGE OF X-MAN mini-series.
"SPECIAL OVER-SIZED ISSUE. After the devastating events of 'X-Men Disassembled,' it falls to Cyclops to rebuild the X-Men in the face of overwhelming hatred. Thankfully, he's not the only X-Man to have just returned from oblivion. Scott and Logan are together again, and they are mutantkind's only hope. Writer Matthew Rosenberg and returning superstar X-Artist Salvador Larroca lead the X-Men into their darkest hour…and beyond. Rated T+."
Interested in Getting Started In X-MEN comic books? Check out our guide here.
Related shopping tags: X-MEN, X-MEN FAMILY TITLES