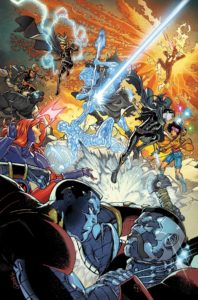 Wow, this is an excellent-looking one-shot X-MEN issue. I love these kinds of stories where a future version of someone comes back in time to tell himself how to maximize his life or the world for the better. The young never listen (can't change the past theme) or something is amiss (stay true to yourself in the present theme). Oh, great an old version of myself just showed up and told me to clean the screen on my septic tank before it backs up. Sounds legit.
"Iceman and the X-Men get a special visitor from the future. An older Bobby Drake has come to the present to tell him to give up being a super hero. But what could have happened that would change Bobby Drake from the X-Men's resident jokester to a morose mutant? Rated T+."
Interested in Getting Started In X-MEN comic books? Check out our guide here.
Related shopping tags: X-MEN, X-MEN FAMILY TITLES