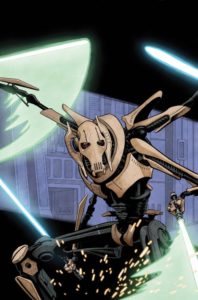 To miss this one-shot would be a most grievous error on your part! Plus, there's more cover variations than Grievous has arms.
"THE FEARSOME SEPARATIST GENERAL STRIKES. In his hunt to kill Jedi, GRIEVOUS stumbles across a power greater than he imagined. What secrets will the killer cyborg find inside a lost Jedi temple? Can Grievous strike a blow against the very FORCE itself? Rated T."
Interested in Getting Started In STAR WARS comic books? Check out our guide here.
Related shopping tags: STAR WARS, STAR WARS (NEW CANON) [2014]