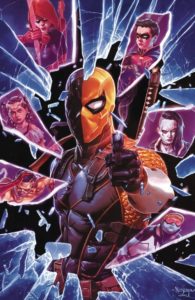 This cool cover epitomizes Deathstroke's ability to fracture the Teen Titans!
"'The Terminus Agenda' part three. After their last mission nearly ended in disaster, the Teen Titans are coming apart at the seams. As Deathstroke's influence over Damian reaches new heights, the team must evaluate how far they are willing to go in their war on crime. And with the Teen Titans seemingly on the brink of destruction, a new threat reveals itself. And the worst enemies of all…come from within."
Interested in Getting Started In TEEN TITANS comic books? Check out our guide here.
Related shopping tags: DC REBIRTH, TEEN TITANS, TEEN TITANS FAMILY TITLES