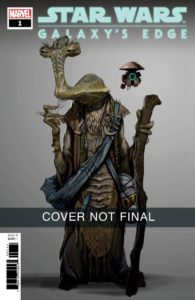 This looks pretty cool. Definitely worth checking out for any Star Wars fan.
"A CALL TO ADVENTURE ON THE VERY EDGE OF THE GALAXY. THE COMIC TIE-IN TO THE THEME PARK. BLACK SPIRE OUTPOST has long been frequented by smugglers, merchants and travelers from every corner of the galaxy looking to make their score on the infamous black market – or experience the exotic thrills only the remote world of Batuu has to offer. Beings like the infamous DOK-ONDAR, a proprietor of rare and one-of-a-kind antiquities, thrive on the unique opportunities which abound on the lawless outpost at the very edge of Wild Space. But the evil FIRST ORDER has come to Batuu and the survival of the entire outpost is at stake. The road to Black Spire's possible salvation might begin in the past…with a job HAN SOLO and his partner CHEWBACCA pulled for Dok-Ondar. The newest chapter of the growing Star Wars saga begins this April with ETHAN SACKS (OLD MAN HAWKEYE) AND WILL SLINEY'S (BEN REILLY: SCARLET SPIDER, SOLO: A STAR WARS STORY) GALAXY'S EDGE – the riveting comic adventure tie-in to the theme park. Rated T."
Interested in Getting Started In STAR WARS comic books? Check out our guide here.
Related shopping tags: STAR WARS, STAR WARS (NEW CANON) [2014]