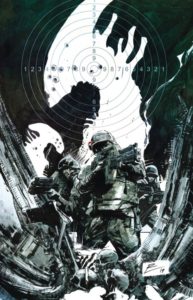 Dark Horse keeps churning out great-looking Aliens material!
"Following the events of Aliens: Resistance, Alec Brand, the colonist rescued by Amanda Ripley and Zula Hendricks, has grown up into an elite Colonial Marine. A secret mission brings him back to the alien-infested moon where he was rescued…and face to face with the past. Written by Brian Wood of Aliens: Defiance and Aliens: Resistance. Find out the fate of Amanda Ripley after Aliens: Resistance. Zula Hendricks and Alec Brand return."
Interested in Getting Started In ALIEN FRANCHISE comic books? Check out our guide here.
Related shopping tags: ALIEN FRANCHISE, BRIAN WOOD (W)