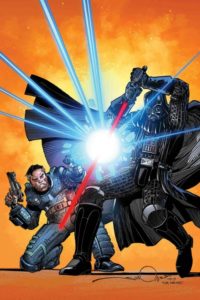 This is really awesome! I sincerely wish Marvel would just straight-up continue this series, as if it was back in the day. IDW has had success with their G.I. Joe, A Real American Hero continuation by Larry Hama. How about Star Wars, Marvel?
"THE ALL-NEW NEXT ISSUE TO THE ORIGINAL MARVEL STAR WARS SERIES. A long time ago on a spinner rack far, far away…STAR WARS comics were a LOT different than they are now. With wild and intricately plotted storylines, MARVEL's historic original run introduced an array of unique heroes and villains to play alongside GEORGE LUCAS's incredibly popular science-fantasy characters. In celebration of MARVEL'S 80TH ANNIVERSARY, this Legends-era sequel to legendary comic book writer Archie Goodwin's 'Crimson Forever' reunites HAN SOLO, LUKE SKYWALKER, PRINCESS LEIA, CHEWBACCA, C-3PO and R2-D2 with JAXXON, AMAIZA FOXTRAIN, DOMINA TAGGE and VALANCE THE HUNTER in a galaxy-threatening, nostalgic roller coaster. STRAP YOURSELVES IN. Rated T."
Interested in Getting Started In STAR WARS comic books? Check out our guide here.
Related shopping tags: STAR WARS