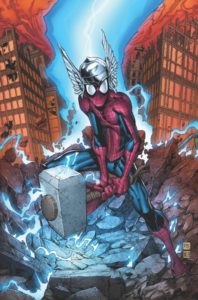 There's not a whole lot of info on this new issue from IDW's Marvel Action line. Could this be their replacement for the failed digest series? Time will tell.
"Two classic Spider-Man tales, pulled from the legendary Vault of Heroes. First-a chance encounter with the Enchantress pits Spidey against Thor-with the whole of Asgard right behind. Then, when Flash Thompson gets a bite from a werewolf, Spidey seeks the aid of the sorcerer supreme-Doctor Strange."
Interested in Getting Started In SPIDER-MAN (PETER PARKER) comic books? Check out our guide here.
Related shopping tags: IDW MARVEL ACTION, SPIDER-MAN, SPIDER-MAN (PETER PARKER), SPIDER-MAN FAMILY TITLES