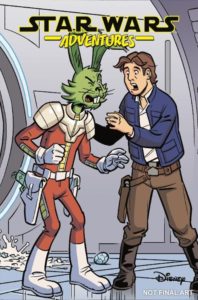 JAXXON is making his way back into canon in a big way! Ok, it's Star Wars Adventures. But, have you heard about the impending Marvel one-shot #108?!?
"A daring rescue mission leads Lando-and his new friend Jaxxon-to the seat of Imperial power, where they must recover an important artifact that will inspire a planet to drive the Empire from their home. Special feature-length tale starring Lando and Jaxxon."
Interested in Getting Started In STAR WARS comic books? Check out our guide here.
Related shopping tags: IDW STAR WARS ADVENTURES, STAR WARS, STAR WARS (NEW CANON) [2014]