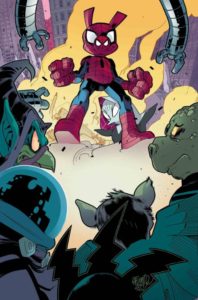 Would we even be getting new Peter Porker material if not for the INTO THE SPIDER-VERSE movie? The circle is complete. Once I was the source material…now, I am the inspired-by material.
"When Spider-Gwen's dimension-hopping web-watch falls into the wrong hands, it's up to everyone's favorite wisecracking web-slinger, the wily waddler known as SPIDER-HAM, to save the day. From the same creative minds that brought you INTO THE SPIDER-VERSE and Spider-Gwen creator JASON LATOUR, you won't want to miss this interdimensional epic. Rated T."
Interested in Getting Started In SPIDER-MAN (PETER PARKER) comic books? Check out our guide here.
Related shopping tags: SPIDER-MAN FAMILY TITLES