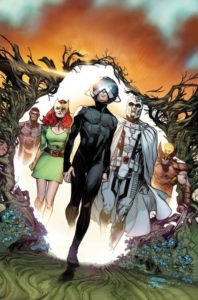 The solicitation touts this as a 'seminal' moment in X-Men publishing history, up there with GIANT-SIZE X-MEN and the Age of Apocalypse. Hmmm.
"FACE THE FUTURE. Superstar writer Jonathan Hickman (SECRET WARS, AVENGERS, FANTASTIC FOUR) takes the reins of the X-Men universe. Since the release of Uncanny X-Men #1, there have been four seminal moments in the history of the X-Men. Giant-Sized X-Men. X-Men. Age of Apocalypse. New X-Men. Four iconic series that introduced a new era for Marvel's mutants and revolutionized the X-Men. In House of X, Charles Xavier reveals his master plan for mutantkind…one that will bring mutants out of the shadow of mankind and into the light once more."
Interested in Getting Started In X-MEN comic books? Check out our guide here.
Related shopping tags: X-MEN, X-MEN FAMILY TITLES, JONATHAN HICKMAN (W)