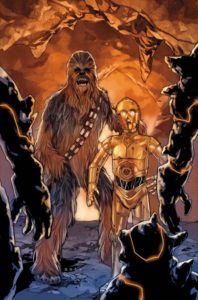 New creative team! New story arc! Set just before ESB! Yes!
"REBELS AND ROGUES. 'The evil lord Darth Vader, obsessed with finding young Skywalker, has dispatched thousands of remote probes into the far reaches of space…' That's right – you remember the opening titles of The Empire Strikes Back. Now find out what happened just before, as Luke and his friends launch a desperate, three-pronged mission of deception to keep the Empire from finding their new rebel base in a brand-new epic from the new ongoing team of Greg 'PLANET HULK' Pak and Phil 'POE DAMERON' Noto. Featuring Han and Leia undercover in a noir world of romance and danger. Luke and R2 facing off against the Executor in a single X-Wing. And Chewie and Threepio, the greatest team-up you never knew you always needed."
Interested in Getting Started In STAR WARS comic books? Check out our guide here.
Related shopping tags: STAR WARS, STAR WARS (NEW CANON) [2014]