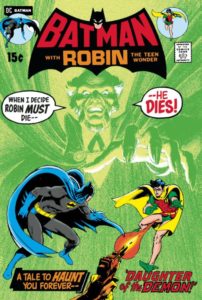 I love these facsimile editions. Can't beat the modest price for a piece of history!
"The story that introduced Ra's al Ghul is reprinted in the first of DC's new line of facsimile edition comics. In 'Daughter of the Demon,' Ra's reveals that he knows Batman's secret identity-and that he needs the Caped Crusader's help to save his daughter, Talia. It's a tale that established Ra's al Ghul as one of Batman's most cunning and unpredictable foes."
Interested in Getting Started In BATMAN comic books? Check out our guide here.
Related shopping tags: BATMAN, BATMAN FAMILY TITLES