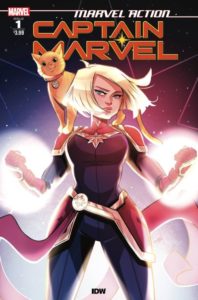 If you need more Flerkens in your life, this is the mini-series for you!
"Go higher, further, and faster with Captain Marvel in this brand-new, all-ages adventure. Carol Danvers' quiet night with BFF Jessica Drew (a.k.a. Spider-Woman) takes a cat-astrophic turn when Manhattan's bodegas are suddenly overrun by a host of angry felines. And not just any felines-Flerkens, the most terrifying, pocket-dimension-holding, tentacle-devouring kitty-look-alikes in the entire universe. Carol's paw-sitive she can handle the situation on her own, but questions remain: can she overcome the fur-midible foes before it's too late? How well does the 'Find My Phone' function actually work? And will there be more cat puns? It's a Flerken invasion in the latest addition to the mighty Marvel Action banner. Sam Maggs and Sweeney Boo make their Marvel Action debut."
Interested in Getting Started In CAPTAIN MARVEL (CAROL DANVERS) comic books? Check out our guide here.
Related shopping tags: CAPTAIN MARVEL, CAPTAIN MARVEL (CAROL DANVERS), IDW MARVEL ACTION