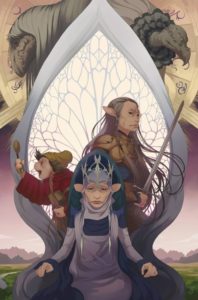 If you are as excited as I am about the upcoming Dark Crystal series on Netflix, this comic book series from Boom! is a must-read!!
"+ AN OFFICIAL PREQUEL TO THE HIT NETFLIX SERIES. + Return to another world, another time, Before the Age of Wonder. The Skesis rein over Thra, but there are distant echoes of rebellion. Gelfling and unlikely heroes emerge to champion what is good and just, but their paths to legend started long ago. Epic tales of adventure, magic, and mystery send us back in time to the Age of Resistance to witness the untold histories that forged these protectors of Thra. + Based on a story by Jim Henson's Dark Crystal: Age of Resistance series writers, Will Matthews and Jeffery Addiss, Nicole Andelfinger ( Lumberjanes ) and Matias Basla ( Sparrowhawk ) present an official prequel to the next chapter of the pop culture phenomenon, now streaming on Netflix."
Interested in Getting Started In DARK CRYSTAL comic books? Check out our guide here.
Related shopping tags: DARK CRYSTAL