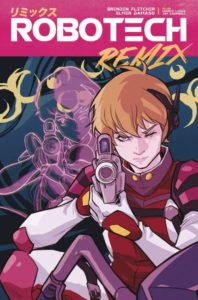 Titan's re-imagining of Robotech begins a new saga! Awesome!!
"Robotech is reborn from the ashes of Event Horizon. New writer Brenden Fletcher (Motorcrush, Isola) and artist Elmer Damaso (Robotech/Voltron, Marvel Mangaverse) boot up Robotech: Remix, an all-new series that will take beloved characters and iconic mecha to places fans have never seen before."
Interested in Getting Started In ROBOTECH comic books? Check out our guide here.
Related shopping tags: ROBOTECH, ROBOTECH REMIX [2017]