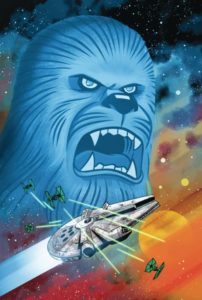 Whoa! The Journey to the Rise of Skywalker includes the Wookies defending Kashyyyk from the First Order?!? I can hardly wait for this movie!
"In this first installment of a three-part story, the mighty Wookiees of Kashyyk must defend their home against the armies of the evil First Order. Plus, in our second tale, R2-D2, C-3PO, and BB-8 team up on a top-secret spy adventure for the Resistance."
Interested in Getting Started In STAR WARS comic books? Check out our guide here.
Related shopping tags: IDW STAR WARS ADVENTURES, STAR WARS, STAR WARS (NEW CANON) [2014]