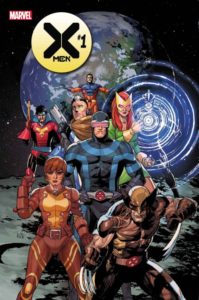 Relaunch! Familiar team names have been fundamentally re-imagined for DAWN OF X. Hickman writes the flagship X-MEN [2019] series, in which Cyclops leads a team of hand-picked heroes.
"DAWN OF X. The X-Men find themselves in a whole new world of possibility… and things have never been better. Jonathan Hickman (HOUSE OF X, POWERS OF X, SECRET WARS) and superstar artist Leinil Yu (NEW AVENGERS, CAPTAIN AMERICA) reveal the saga of Cyclops and his hand-picked squad of mutant powerhouses. Rated T+."
Interested in Getting Started In X-MEN comic books? Check out our guide here.
Related shopping tags: DAWN OF X [2019], JONATHAN HICKMAN (W), X-MEN, X-MEN FAMILY TITLES