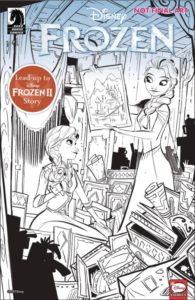 Here's a prequel mini-series for the highly anticipated FROZEN 2 animated film. After waiting this long, the film better be better than the original!
"During a tribute to beloved King Agnarr and Queen Iduna of Arendelle, Elsa and Anna stumble upon some old boxes of their parents' belongings. What they find inside sparks one of their youngest childhood memories-and they begin an adventure of mystery and surprise. A lead-up to the highly anticipated film, Disney Frozen 2, in theaters November 22, 2019."
Interested in Getting Started In FROZEN comic books? Check out our guide here.
Related shopping tags: DISNEY, DISNEY PRINCESS, FROZEN