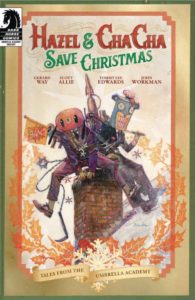 That crazy duo gets their own spinoff one-shot!
"Hazel and Cha Cha-the bizarre assassins who first appear in Umbrella Academy: Dallas and blew audiences away in the Netflix series-track down a rogue time agent and cross paths with a plot to discredit Christmas. The first Umbrella Academy spinoff."
Interested in Getting Started In UMBRELLA ACADEMY comic books? Check out our guide here.
Related shopping tags: UMBRELLA ACADEMY