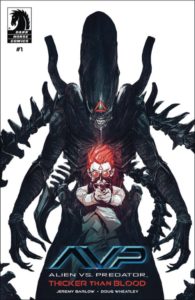 Mostly formulaic, but these AvP series are always entertaining.
"Predators board a luxury charter spaceship, unleashing a path of terror and bloodshed. An adolescent girl and her younger 'brother' are the last to survive, and begin a cat-and-mouse chase with the attackers. They hope for an escape, but they haven't counted on the alien . . ."
Interested in Getting Started In ALIEN FRANCHISE comic books? Check out our guide here.
Related shopping tags: ALIEN FRANCHISE, PREDATOR FRANCHISE