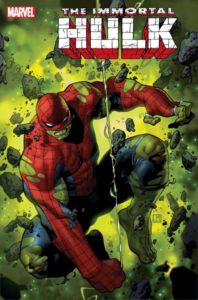 This is a fairly new twist in the comics genre. We've seen other Hulks, to be sure. But have we seen *the* Hulk in another hero's body?!?
"THE HULK FINDS A NEW HOST: THE AMAZING SPIDER-MAN. When Bruce Banner wakes up in the middle of the night without the Hulk, he thinks he's finally free. But the Hulk is immortal – and the night's not over yet. If you thought he was dangerous in the body of mild-mannered Bruce Banner, wait till you see him now. Peter Parker is a man with the proportional strength and agility of a spider, capable of lifting trains on his bad days. And he's about to get a big, green power-up – with a temper to match."
Interested in Getting Started In SPIDER-MAN (PETER PARKER) comic books? Check out our guide here.
Related shopping tags: HULK, HULK (BRUCE BANNER), HULK FAMILY TITLES, SPIDER-MAN, SPIDER-MAN (PETER PARKER), SPIDER-MAN FAMILY TITLES