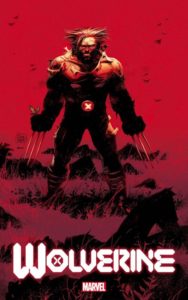 If you were wondering how Wolverine will fit in the new DAWN OF X relaunch, wonder no longer…get the new ongoing series starring the one and only–WOLVERINE!
"THE BEST IS BACK. Wolverine been through a lot. He's been a loner. He's been a killer. He's been a hero. He's been an Avenger. He's been to hell and back. Now, as the nation of Krakoa brings together all Mutantkind, he can finally be… happy? With his family all together and safe, Wolverine has everything he ever wanted… and everything to lose. Writer Benjamin Percy (X-FORCE, WOLVERINE: THE LONG NIGHT) and legendary artist Adam Kubert (X-MEN, AVENGERS) bring the best there is to his new home. PLUS: The return of OMEGA RED. Parental Advisory."
Interested in Getting Started In WOLVERINE (JAMES 'LOGAN' HOWLETT) comic books? Check out our guide here.
Related shopping tags: ADAM KUBERT (CA), DAWN OF X [2019], WOLVERINE, WOLVERINE (JAMES 'LOGAN' HOWLETT), X-MEN FAMILY TITLES