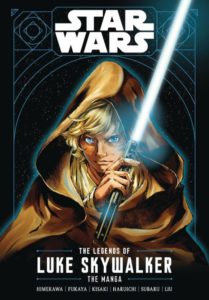 Another great-looking Star Wars manga adaptation!
"Luke Skywalker? I thought he was a myth. – Rey Who is Luke Skywalker? Across the galaxies many have heard his name, but few have met the legendary Jedi. There are those who call him a merciless war criminal, others say he's not even a human, but a droid. Whether he is myth or man, those who claim they've encountered the elusive Luke Skywalker all have an unforgettable adventure to share. For older teen audiences."
Interested in Getting Started In STAR WARS comic books? Check out our guide here.
Related shopping tags: NOVEL TIE-IN, STAR WARS, STAR WARS (NEW CANON) [2014], STAR WARS MANGA