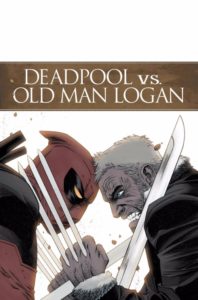 Here's a super cool match-up guaranteed to please a broad range of fans…Deadpool vs. Old Man Logan! May the best regenerative man regenerate best-est-ily!
"What do you get when you cross a regenerative, cranky, old X-Man with a regenerative, wacky Wade Wilson? DEADPOOL VS. OLD MAN LOGAN. Writer DECLAN SHALVEY (DEADPOOL, MOON KNIGHT) and Mike Henderson (SECRET WARS: BATTLEWORLD, Nailbiter) are teaming up to team up Marvel's deadliest heroes together in their own series. James 'Logan' Howlett is after a newly discovered Omega-Level mutant, and he just won't let Deadpool help. So, naturally, Deadpool vows to outmatch his newly marked enemy for the entirety of his mission. Parental Advisory"
Interested in Getting Started In OLD MAN LOGAN comic books? Check out our guide here.
Related shopping tags: DEADPOOL, OLD MAN LOGAN, WOLVERINE, X-MEN FAMILY TITLES