WELCOME
Hello, again, from Spiral Comics. This month, we're still excited about Marvel Legacy rolling on. Even more titles are reverting to their legacy numbering, but we also get a few one-shots: DARKHAWK #51, NOT BRAND ECHH #14, POWER PACK #63, MASTER OF KUNG FU #126, and SILVER SABLE AND THE WILD PACK #36. Before I read the fine print and realized these were just one-shots, I fully believed Marvel was launching new, ongoing series for these legacy titles. And that's the exciting thing about Marvel Legacy. To be clear–I don't think they'll be doing this, but Marvel could offer five one-shots connecting to legacy titles every month for years and not run out of series for the stunt. That would be such a great way to gauge fan reception for actually reviving titles in an ongoing fashion. Anyway, as always, there's lots of other great stuff for pre-order this month, so check out our newest announcement…
---
ANNOUNCEMENTS
New addition to our website…
Spiral Comics is Now Offering Preorders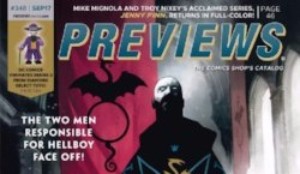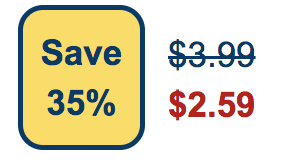 Spiral Comics is now offering monthly Pre-Order Service for virtually all comics and trades from the Previews catalog. Check out our new page! If I do say so myself…it's probably the coolest designed way to browse the catalog without actually having the catalog itself in front of you. Our page can be filtered by category and/or by publisher. Also, to streamline the experience, you can choose what kind of information is displayed: images, creators, descriptions, and associated page numbers from the print catalog. When you add something to the cart, the 'Add To Cart' button switches to 'Added,' so the page itself keeps track of what's in the cart. Experience it yourself! View the catalog now…
---
GET STARTED IN COMIC BOOKS
Focus This Month:
Get Started In… Walking Dead
The Walking Dead, which began in 2003, is arguably one of the most important comic series of the modern era. Although neither the zombie genre nor the apocalypse genre was new at the time, writer Robert Kirkman's character-driven storylines in this genre mashup has made this series shine from the start.
With help from Spiral Comics, it's easy to get started in Walking Dead comic books. We've created specific articles–and we keep them current–to help you get started in particular characters and series.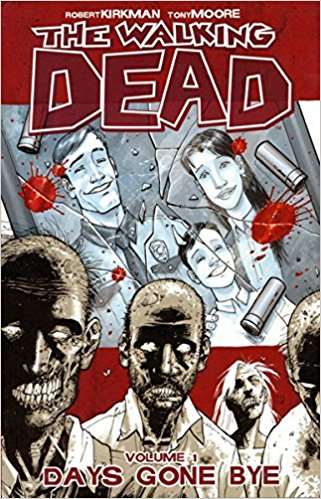 ---
FIRST IMPRESSIONS FOR SEPTEMBER 2017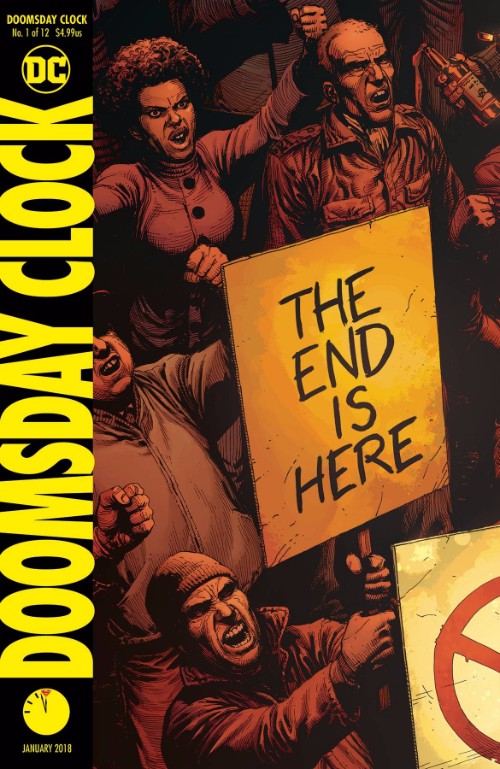 Whoa, there's virtually nothing to gleen from the solicitation text on this new maxi-series from DC. But…the text is clearly in the style of THE WATCHMEN, which featured a 'Doomsday Clock' as part of its plot. Additionally, with this new series, you can see a small clock with Superman's symbol at the top. And you know who killed superman, right? Yes, a creature named Doomsday. The lenticular cover image is a rorschach conglomeration of Superman's, Batman's and Wonder Woman's symbols. (At least, that's what I see!?). This series should be good, and could be great. Geoff Johns is the writer.
"DC Comics presents to you a 12-issue maxiseries from the critically acclaimed team of writer Geoff Johns, artist Gary Frank and colorist Brad Anderson. You are not prepared for what lies ahead within these pages, good readers."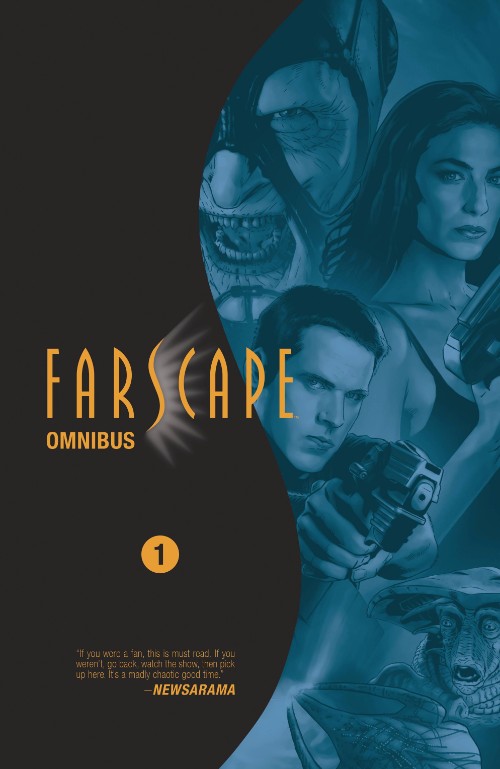 Don't you wish the Farscape television series had continued? Well, it did! In comic book form. Check out this latest omnibus collected edition of the comics which will be released in Jan 2018. What a cool show. I wish it had continued. Oh, wait, it did! In comic book form.
"The Jim Henson Company and Farscape creator Rockne S. O'Bannon return to one of their most celebrated creations for the official continuation of the beloved and groundbreaking television series. Experience Farscape like never before with this brand-new omnibus edition. With over 600 pages of story collecting the first four volumes of the critically acclaimed Farscape comic book series and the complete spinoff trilogy chronicling the formative adventures of fan-favorite character D'Argo."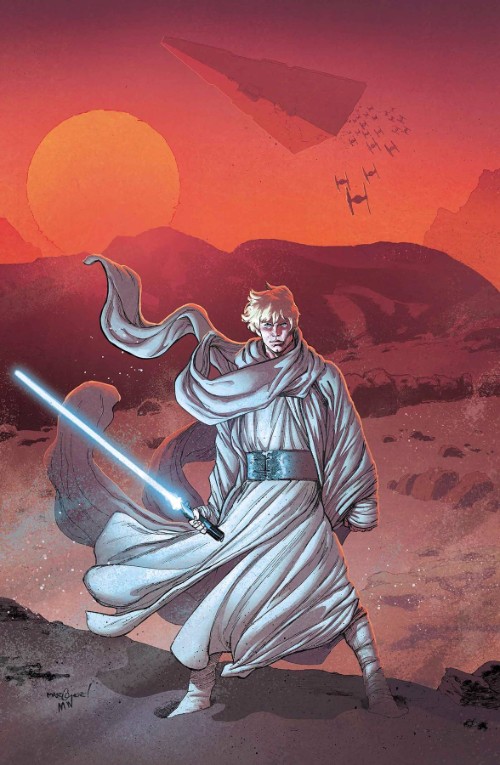 Holy City, Batman! The Star Wars comic book series is going to Jedha. Specifically, in the saga time period between A New Hope and The Empire Strikes Back, Luke, Leia and Han are going to Jedha! This is Kieron Gillen's first issue of the flagship Star Wars comic book series. Oh, and do I have to mention that it's *canon* in the New Star Wars Canon? Can't wait to see what else is unearthed on Jedha.
"THE ASHES OF JEDHA. KIERON GILLEN'S FIRST ISSUE ON STAR WARS. The Rebel Alliance turns its attention to the shattered planet of Jedha. Once the site of great significance to the Jedi, Jedha was left in ruins when the Death Star annihilated the Holy City there. Now, new series writer Kieron Gillen joins artist Salvador Larroca to bring Luke, Leia, Han, and the rest to the remains of the tragic victim of the Empire's fury. Rated T"
---
NEWLY ADDED AND IN-STOCK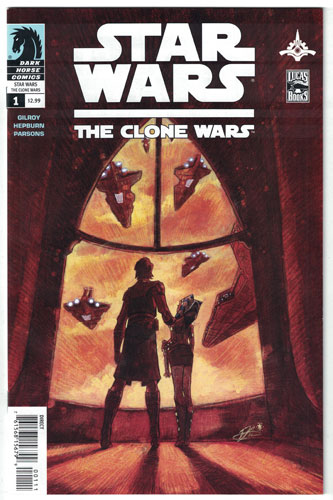 Star Wars: The Clone Wars [2008] #1 – NM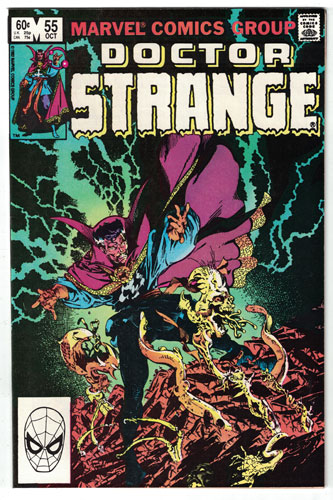 Doctor Strange [1974] #55 – NM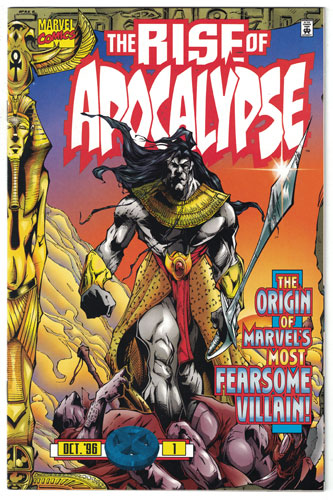 Rise of Apocalypse [1996] #1 – NM-
---