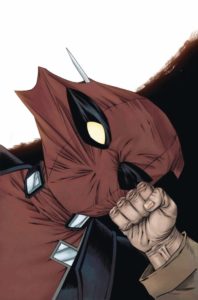 A little gruesome, but cool, cover.
"The evil group GEN-FORM has captured Maddie, a new Omega-level mutant. Will Deadpool and Old Man Logan finally set aside their differences in order to save her as a team? Of course not. Parental Advisory"
Interested in Getting Started In OLD MAN LOGAN comic books? Check out our guide here.
Related shopping tags: DEADPOOL, OLD MAN LOGAN, X-MEN FAMILY TITLES, WOLVERINE