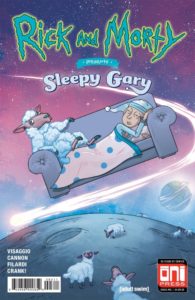 Another one-shot from the world of RICK AND MORTY! Gotta love these deep dives into interesting characters we only met in passing in the animated television series. Check it out!
"Sleepy Gary may be a parasite, but when Jerry is with him, he's… happy. Does it matter if it isn't really real? Can either of them even know what's real anymore? Explore the nuances of love, perception, and high-speed vespa chases in this darkly funny and poignant one-shot, written by Magdalene Visaggio (KIM and KIM, ETERNITY GIRL) and illustrated by series artists CJ Cannon and Nick Filardi."
Interested in Getting Started In RICK AND MORTY comic books? Check out our guide here.
Related shopping tags: RICK AND MORTY