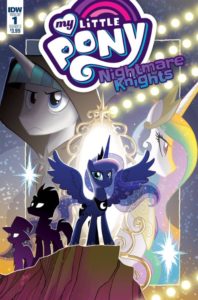 Former MLP villains turned heroes are the starts of this new mini-series from IDW!
"Powerless and threatened by a great evil, Princess Luna discovers she can't count on her sister or any of the usual heroes of Equestria. Running out of time and with nowhere to turn, Luna assembles a team specially suited to save the day… a team of former villains. A brand new mini-series featuring former villains turned heroes. A crazy caper story the likes of which My Little Pony has never seen."
Interested in Getting Started In MY LITTLE PONY comic books? Check out our guide here.
Related shopping tags: MY LITTLE PONY