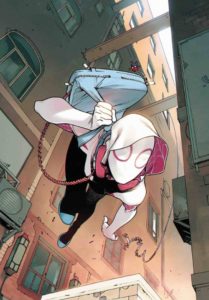 SPIDER-GWEN lives on as GHOST-SPIDER!…somehow…through the Spider-Geddon…which sounds ominous…and super-cool!
"A SPIDER-GEDDON TIE IN. What? You thought we were done with Gwen Stacy after the first two landmark volumes of her series? GET OUTTA HERE. It's a whole new spin on Gwen and her world of Earth-65, brought to you by none other than SEANAN MCGUIRE and ROSI KÄMPE. We pick up with Gwen right where we left her – fighting crime through her home reality, unaware that it sits on the precipice of interdimensional calamity. Someone's gonna be late to band practice… Rated T+."
Interested in Getting Started In SPIDER-GWEN comic books? Check out our guide here.
Related shopping tags: SPIDER-GEDDON (2018), SPIDER-GWEN, SPIDER-MAN FAMILY TITLES