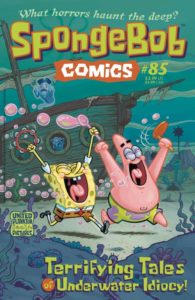 SIMPSONS COMICS may be ending, and that could be the end of Bongo Comics. But  SPONGEBOB COMICS is not produced by Bongo, just published. United Plankton Pictures could be using their "extended break" to find another publisher. Let's hope they come back soon!!
"United Plankton Pictures is taking an extended break, so issue #85 will be our last for a while. For now we present our 7th annual October assemblage of spooky submerged stories. In 'Creature from Goo Lagoon,' Graham Annable (Grickle, Boxtrolls, Puzzle Agent) writes and draws the tale of a lonely monster…who makes the mistake of kidnapping Patrick to keep him company. Then, in 'Dutchman Went Down to Bikini Bottom,' Derek Drymon and Jacob Chabot team to show how even selling his soul can't help Squidward's clarinet playing. And Bob Flynn brings vampires to Bikini Bottom. All this plus facts about the deepest depths of the sea-by Maris Wicks and SpongeFunnies by James Kochalka."
Interested in Getting Started In SPONGEBOB comic books? Check out our guide here.
Related shopping tags: SPONGEBOB