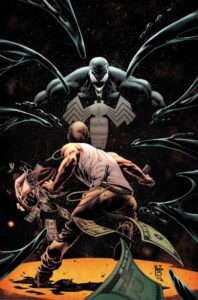 Hard to believe–but true–this is the first ever VENOM ANNUAL!
"For the first time in Marvel history, the Wicked Webslinger called VENOM gets his very own Annual. This one features a few walks down memory lane from some of the best creators in comics today — and even a few surprise guests from Venom's past. Serving as a great jumping on point for readers new and old, this is one issue of VENOM you can't afford to miss. Rated T."
Interested in Getting Started In VENOM comic books? Check out our guide here.
Related shopping tags: SPIDER-MAN FAMILY TITLES, VENOM