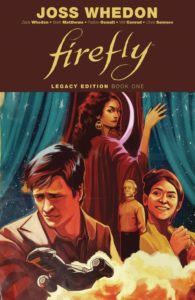 Since the Serenity (Firefly) license has moved from Dark Horse to Boom, those DH hardcovers will be out-of-print (OOP) and supply will dwindle. But don't fret, Boom is issuing the material in trade paperback for the first time, and they'll be in print for the presumably future.
"From Joss Whedon (the visionary creator of Buffy the Vampire Slayer ), buried histories and secret identities are revealed, along with all the heist-takin', authority-dodgin', death-defyin', space-cowboyin' you've been missing from your life, as this ragtag crew of mercenaries, outlaws, and fugitives travel the stars in search of their next adventure in these sequels to the hit Firefly television series and Serenity film. Collects Serenity: Those Left Behind #1-3, Serenity: Better Days #1-3, and Serenity: The Shepherdfs Tale OGN."
Interested in Getting Started In SERENITY (FIREFLY) comic books? Check out our guide here.
Related shopping tags: SERENITY (FIREFLY)