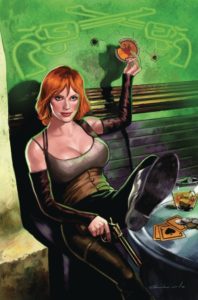 We only saw her in two episodes of the all-too-short-lived-but-immeasurably-loved television series, but holy awesome! You, go, Boom! Studios!
"In this 40 page celebration, take a look into the never-before-seen history of one of the most beloved Firefly characters in the 'Verse-SAFFRON. Journey through the early days of Saffron's life, from before her fateful meeting/marriage to Mal. This is an origin story no Firefly fan is sure to forget."
Interested in Getting Started In SERENITY (FIREFLY) comic books? Check out our guide here.
Related shopping tags: SERENITY (FIREFLY)