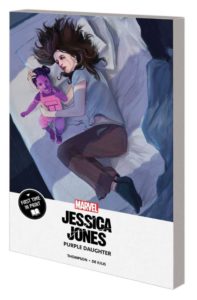 Here's another original Jessica Jones graphic novel, and this one looks really good! The title says it all!
"FIRST TIME IN PRINT. The critically acclaimed team that brought you JESSICA JONES: BLIND SPOT is back. When her daughter, Danielle, comes home with purple skin, Jessica Jones is forced to question everything she thought she knew about her time with the Purple Man and her marriage to Luke Cage. As Jessica digs deeper than ever before into the darkness at the center of her life, will she find relief – or yet another nightmare? Brace yourself for another thrilling, chilling tale that will challenge everything you think you know about Marvel's top P.I. Parental Advisory."
Interested in Getting Started In JESSICA JONES comic books? Check out our guide here.
Related shopping tags: JESSICA JONES, MARVEL PREMIERE GRAPHIC NOVEL (MPGN)