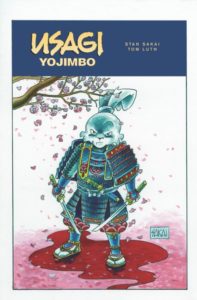 Usagi Yojimbo is easily one of my top 5 favorite comic book series. For reasons I'm not privy to, Stan is relaunching his creator-owned property at IDW. The Dark Horse era has been amazing. Can't wait to see what's in store for the IDW era!
"Follow the adventures of rabbit r?nin Miyamoto Usagi as he wanders Edo period Japan on his warrior's journey. In the start of this three-part story, Usagi becomes embroiled in a puppet drama where the players are not quite what they seem. Written, drawn, and lettered by comics legend Stan Sakai. Colors by Tom Luth (Groo the Wanderer). The start of an exciting new chapter in the epic ongoing saga of Usagi, now published by IDW. Exciting retail incentive variants are offered for the serialized Usagi Yojimbo series for the first time. This series will be in all color."
Interested in Getting Started In USAGI YOJIMBO comic books? Check out our guide here.
Related shopping tags: USAGI YOJIMBO