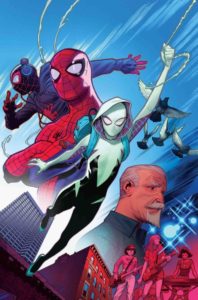 Finally, Spider-Gwen is making her way (almost) permanently to the main Marvel Universe proper. This series replaces SPIDER-GWEN: GHOST-SPIDER [2018], and she's splitting her time between her universe and the main Marvel U. It's okay, I'll accept partial custody over none.
"GWEN STACY MAKES HER WAY TO THE MARVEL UNIVERSE. With a cloud of infamy hanging over her head on Earth-65, GWEN STACY now travels to Earth-616 for super hero action… and school? The newest student at ESU is about to get a crash course in multiversity as she splits her time between the world she loves and the world she's just getting to know. But what devious villain has eyes on Gwen's travels? Is Gwen ready for what comes next?"
Interested in Getting Started In SPIDER-GWEN comic books? Check out our guide here.
Related shopping tags: SPIDER-GWEN, SPIDER-MAN FAMILY TITLES