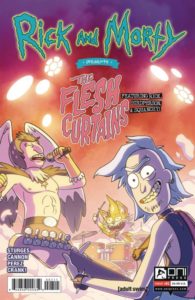 Another must-read Rick and Morty one-shot!
"Learn the true origins of THE FLESH CURTAINS, Rick's rock band with Bird Person and Squanchy. Booed off of every stage, they consider giving up… until Rick invents a machine capable of writing songs people can't resist. But when their multi-dimensional concert goes awry, Rick suddenly finds himself in massive debt to a ruthless alien loan shark. Will Rick do the safe thing and play the music guaranteed to make the band a success, or do the insane thing and play the music guaranteed to alienate almost everyone in order to impress his favorite musician?"
Interested in Getting Started In RICK AND MORTY comic books? Check out our guide here.
Related shopping tags: RICK AND MORTY