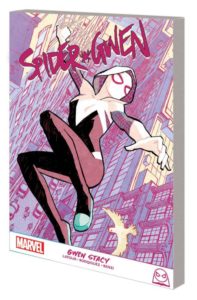 This is an amazing value for the very first 12 whole issues worth of Spider-Gwen's appearances!
"A spectacular spider-powered hero for a new generation. On the most tragic day of her life, Earth-65's Gwen Stacy was convinced the Lizard died in her arms along with Peter Parker. Now a new reptilian rampage has left her in doubt – not only about Peter's life, but also about his death. And Gwen's troubles pile up as the Osborns of her world make their debut, and she finds herself on S.H.I.E.L.D.'s most wanted list. Perhaps another Spider-Woman, Jessica Drew, could share some lessons about power and responsibility. Get to know Gwen, her policeman father, George Stacy, and her BFFs and bandmates – the incomparable Mary Janes. Plus: more Earth-65 twists on familiar faces including Frank Castle, Matt Murdock and Captain America. Collecting EDGE OF SPIDER-VERSE #2, SPIDER-GWEN (2015A) #1-5 and SPIDER-GWEN (2015B) #1-6. Ages 10 and Up."
Interested in Getting Started In SPIDER-GWEN comic books? Check out our guide here.
Related shopping tags: MARVEL 'MIDDLE GRADE READER' GRAPHIC NOVELS [2019], SPIDER-GWEN, SPIDER-MAN FAMILY TITLES