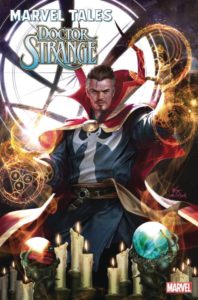 Timeless stories and highlights from Doctor Strange's publishing history in celebration of Marvel's 80th Anniversary!
"By the hoary hosts of Hoggoth, Doctor Strange works his magic as we celebrate the 80th anniversary of the House of Ideas with the era-spanning MARVEL TALES. This anthology series shines a spotlight on fan-favorite characters, features timeless stories and highlights some of our most impressive talent from the past eight decades. First, the legendary pairing of Stan Lee and Steve Ditko debut the incomparable Stephen Strange as Earth's Sorcerer Supreme in STRANGE TALES (1951) #110. Then, in DOCTOR STRANGE (1968) #169-170, Roy Thomas and Dan Adkins offer their take on Strange's origin – and serve up a rematch with his first foe, the dream-manipulating Nightmare. And the skillful spellcaster called Clea joins the fight against the nefarious Nicodemus, who's out to steal the sorcerer's soul in a memorable tale from MARVEL FANFARE (1982) #5 by Chris Claremont and Marshall Rogers. Rated T."
Interested in Getting Started In DOCTOR STRANGE comic books? Check out our guide here.
Related shopping tags: DOCTOR STRANGE, MARVEL 80TH ANNIVERSARY SPECIALS [2019]