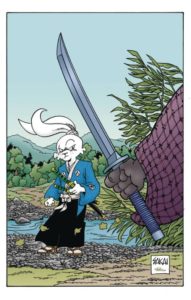 If you need your fix of early issues of Usagi Yojimbo, IDW's got you covered!
"This series collects the original early issues of the acclaimed long-running series, NOW IN FULL COLOR. Every issue will also feature new behind-the-scenes material and art. Whether you're a long-term Usagi fan or brand new to the adventures of the ronin rabbit, this series will be the perfect addition to your comic library."
Interested in Getting Started In USAGI YOJIMBO comic books? Check out our guide here.
Related shopping tags: USAGI YOJIMBO